Here's a handy glossary of everything you need to know about SSAB's fossil-free steel.
Availability – SSAB has already delivered fossil-free steel to a few pilot customers since 2021 but the company aims to make it available in the global market and demonstrate the technology on an industrial scale in 2026.
Bio coal and Blast furnace – Eventually, SSAB plans to close its blast furnaces and produce iron with the Hydrogen Breakthrough Ironmaking Technology (HYBRIT). In the long run, coal will be replaced with hydrogen to remove oxygen from the iron oxide. However, carbon as an alloy is needed to make steel. So, SSAB is exploring the possibility of using bio coal as an alternative to fossil coal as an alloy to achieve the carbon content in steel (typically 0.1-0.2%). The key point here is that the alloying coal does not generate any significant carbon dioxide emissions.
Cost – Fossil-free steel is a premium product, and it is expected to come with a higher price tag. The main cost-drivers for fossil-free steel are the investments in production and infrastructure, to switch from coal to fossil-free electricity and hydrogen, from natural gas to biogas, and from iron ore pellets to HYBRIT sponge iron.
The long-term cost difference between fossil-free steel and fossil-based steel is still to be determined. The increasing cost of fossil fuels and higher fossil fuel and carbon taxes will definitely have an impact on the cost of steel made through traditional process.
Electricity price fluctuations would also influence the cost, but the actual impact could be known only when the fossil-free products are on the market in 2026.
Demand – SSAB is experiencing a huge demand and customer interest from the various industry, both due to new standards and legislation and due to a demand from endcustomers and investors.
Energy – Separating oxygen from iron ore is an energyintensive process, but the energy consumption is 25% less in the case of fossil-free crude steel.
As per SSAB estimates, a traditional coal-based blast furnace needs about 5466 kWh energy per tonne crude steel. In comparison, green hydrogen and the HYBRIT technology would require about 4090 kWh of energy per tonne of crude steel.
At the moment, there is not enough green power in the world to slow down global warming through electrification. Moreover, it takes massive investments in production and distribution of electricity. SSAB produces fossil-free sponge iron in northern Sweden (Zone SE1) and so far, there is enough fossil free electricity.
In 2026, SSAB aims to produce steel from 1.3 million tons of sponge iron. That corresponds to about 5 TWh fossil-free electricity per year or 3% of Sweden's current production at 165 TWh per year. To convert SSAB's total current steel production in Sweden to fossil-free steel, about 15 TWh per year, or 9% of Sweden's current production of green electricity would be needed.
For fossil-free sponge iron production in northern Sweden, SSAB uses electricity mostly from hydropower and wind power. The wind in the area is quite stable and even stronger during the winter. Hydropower is available around the year and an excellent stabiliser to variation in the power net.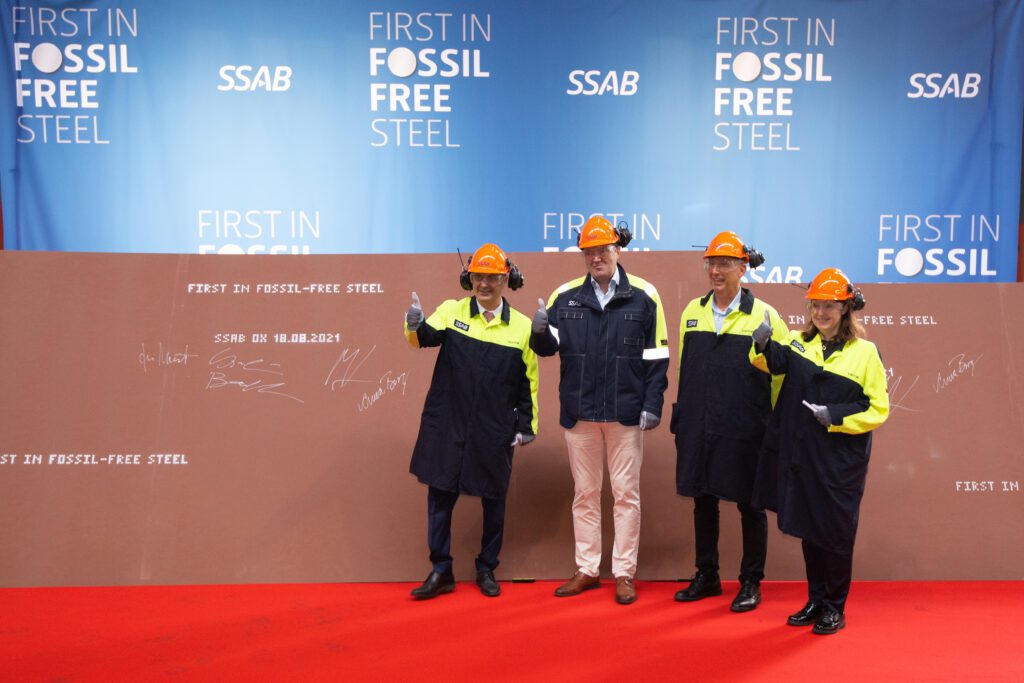 Fossil-free steel – Fossil-free means that a product or service has been created without using fossil-fuels or fossil raw materials. Fossil-free steel is made without creating CO2 emissions from fossil fuels and by using fossil-free energy sources.
The first step in making steel is to turn iron ore into iron by removing the oxygen. This has traditionally been done using coal and coke in the blast furnace process. However, this step will now be done using hydrogen gas through the HYBRIT process.
Fossil-free electricity will be used to produce hydrogen from water via electrolysis. The byproduct of this process is water, not CO2. The result of the HYBRIT process is solid iron (sponge iron) which is then melted in an electric arc furnace.
Across the entire process, only fossil-free electricity and fuels will be used – resulting in fossilfree steel as an end product
Green hydrogen and Gällivare – Hydrogen used in the HYBRIT process will be made with fossilfree electricity.
The industrialisation of the HYBRIT technology is intended to start with the first demonstration plant, which will be ready in 2026, for the production of 1.3 million tonnes of fossil-free sponge iron in Gällivare.
The demonstration plant will be integrated with iron pellet making and is part of LKAB's transition plan. The goal is to expand sponge iron production to a full industrial scale of 2.7 million tonnes by 2030 to be able to supply SSAB, among others, with feedstock for fossil-free steel.
The choice of Gällivare for establishing of the plant was based on a joint assessment of industrial synergies, where proximity to iron ore, logistics, an electricity supply and energy optimization were important factors.
HYBRIT – It is an initiative that endeavours to revolutionise steelmaking. By using HYBRIT technology, SSAB aims to replace coking coal, traditionally needed for ore-based steelmaking, with fossil-free electricity and hydrogen.
The result will be the world's first fossil-free steelmaking technology, with virtually no carbon footprint. SSAB's goal is to reduce Sweden's CO2 emissions by 10% and Finland's by 7%.
HYBRIT technology replaces the blast furnace process, which uses coal to remove oxygen from the iron ore, with a direct reduction process that uses fossil-free hydrogen gas. Instead of carbon dioxide, the by-product turns into water.
Impact – The worldwide share of carbon dioxide emissions from the steel industry is about 7% according to estimates from World Steel Association. SSAB's share is rather small globally, but significant in countries like Sweden (more than 10%) and Finland (about 7%).
Joint venture – HYBRIT is a joint venture company of SSAB, LKAB and Vattenfall. The three companies each own one third of the company, which is seeking to develop a steelmaking process that emits water instead of CO2.
Key players – Other than SSAB, LKAB and Vattenfall, Swedish Energy Agency, KTH, Luleå University of Technology, Swerim, RISE ETC, Lund University and Stockholm Environment Institute (SEI) have been instrumental in making HYBRIT a reality and Sweden the first in the world to produce fossil-free steel.
LKAB – Its core business is the mining and processing of iron ore for the steel industry. The company is responsible for the production of fossil-free pellets.
Martin Pei – Dr. Martin Pei, Executive Vice President and CTO of SSAB, is the initiator of the HYBRIT. According to him, "SSAB leads the green transformation in the steel industry and backed by the breakthrough achievements already made, we now want to accelerate the transformation and thus decrease our emission footprint even faster, now targeting around 2030. Mitigating climate change is of utmost importance and there is no time to lose.
Nuclear power – SSAB considers nuclear power as fossil-free electricity, just as hydro, solar and wind power. But as the production of fossil-free sponge iron is in north Sweden (power zone SE1), in practice, it primarily means hydropower and wind power.
Objective and Oxelösund – With the HYBRIT initiative, SSAB, LKAB and Vattenfall intend to create a completely fossilfree value chain from mine to finished steel, with fossil-free pellets, fossil-free electricity, and green hydrogen.
SSAB aims to convert the Oxelösund steel plant blast furnace (BF) to a 100% fossilfree-based hydrogen direct reduced iron (H-DRI) and electric arc furnace (EAF) facility by 2025.
Partnerships – SSAB entered an agreement with the US-based Shape Corp., a tier-one automotive supplier of lightweight body structures, to deliver fossil-free steel crash management and body structure systems to market.
Together, SSAB and Mercedes Benz plans to introduce fossil-free steel into vehicle production as early as possible. The first prototype parts for body shells made of SSAB's fossil-free steel are already being planned. By 2039 at the latest, the Mercedes Benz new passenger car fleet will become carbon dioxide-neutral along the entire value chain.
SSAB and Swedish electric car company Polestar have signed a letter of intent to start strategic collaboration to create a climate-neutral car.
The Polestar 0 project, announced in 2021, aims to create a climate-neutral car by 2030 by eliminating emissions from the supply chain.
Volvo Trucks will, as the world's first truck manufacturer, introduce SSAB fossil-free steel in its trucks. The first steel will be used in the truck's frame rails, the backbone of the truck on which all other main components are mounted. As the availability of fossil-free steel increases, it will also be introduced in other parts of the truck.
Quality – The quality and properties of fossil-free steel will be the same as SSABs steel of today. The properties of SSAB's steel are created in the steelmaking, rolling and heat treatment processes, which will remain the same. The only difference in the process is that the energy used will be exclusively fossil-free electricity and other fossil-free fuels. The steels will have the same high performance, guarantees and chemical composition in addition to having virtually no carbon footprint.
Range of products – SSAB plans to offer all major steel groups as fossil-free steel starting with smaller volumes parallel to our normal production.
Scopes 1, 2 and 3 – SSAB will report Scope 1, 2 and 3 upstream. The Environment Product Declaration (EPD) includes Scope 1 and 2. The Product Environmental Footprint (PEF) also includes Scope 3 upstream and end-of-life.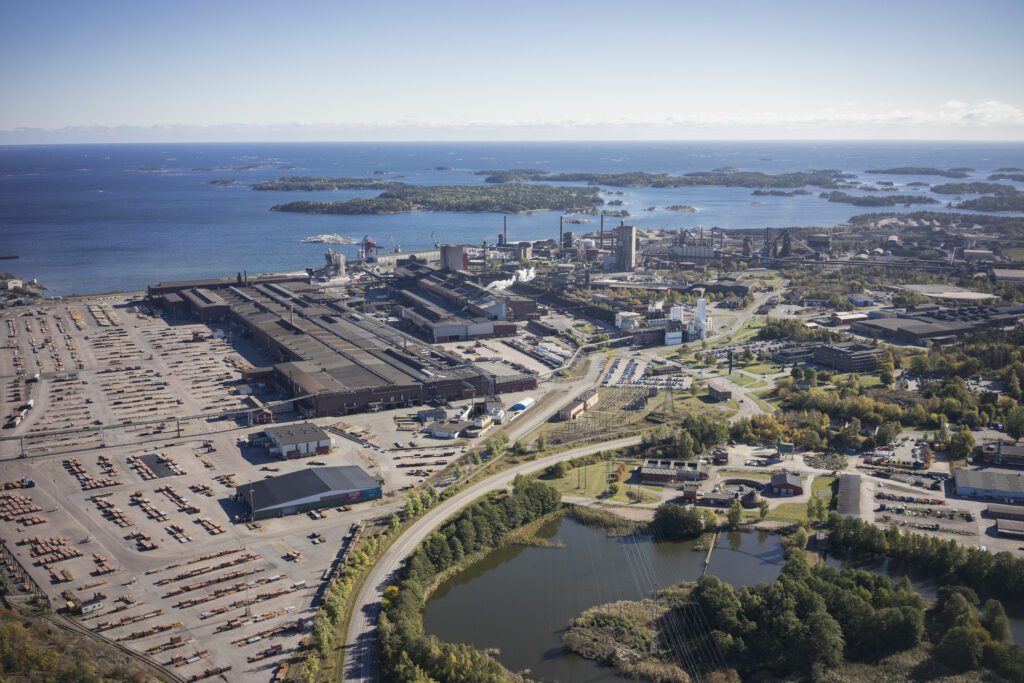 Timelines and Transparency – The pilot plant for the production of sponge iron in Luleå was commissioned on 31 August 2020 and the next step is planned for 2026 with a demonstration plant for the production of fossil-free sponge iron on an industrial scale in Gällivare.
SSAB has invested heavily in fossil-free steel and as part of this, the production process will be documented in an Environmental Product Declaration (EPD).
EPDs are third-party reviewed and follow strict European and international standards.
Underground hydrogen facility – HYBRIT's pilot facility for fossil-free hydrogen gas storage was inaugurated in June at Svartöberget in Luleå, Sweden. The rock cavern storage facility is the first of its kind in the world. The inauguration ceremony marked the start of the two-year test period, which will run until 2024.
Vattenfall – A multinational power company owned by the Swedish State. The state-owned enterprise handles the production of fossil-free electricity.
World's first fossil-free steel – In August 2021, SSAB was able to show the world´s first fossil-free steel plate made from hydrogen-reduced iron produced at HYBRIT´s pilot plant in Luleå, Sweden.
In another world-first, Volvo Group revealed the first vehicle made of fossil-free steel produced by SSAB. The machine, a load carrier for use in mining and quarrying, was unveiled at a Volvo collaboration event in Gothenburg in October.
X-factor – While steelmakers across the world are developing and investing in lowering their CO2 emissions, SSAB finds itself in a unique position with HYBRIT.
Having strategic partners in the form of LKAB and Vattenfall, SSAB already has a head start in the green race. The three partners are deeply committed to guaranteeing a fossil-free value chain to the end user.
Your choice – Buying fossil-free steel adds economic and environmental value to a business and for an end-user, it is a commitment to improving tomorrow's environment. Around the globe, legislation and regulations are increasingly forcing industries to develop infrastructure and processes that meet specific environmental conditions. This trend is only just beginning, and companies will need to invest now to ensure their business is fit for the future.
Zero carbon emissions – For fossil-free steel products, SSAB aims for a carbon footprint that will be close to zero tonnes CO2 per tonne steel.