Imagine a company, solely focussing on space travel, aiming to turn lunar regolith, the soil found on the moon's surface, into oxygen, accidentally finding a way to battle the biggest threat modern humans have ever faced: the climate crisis. Sounds like a plot from a sci-fi movie, right? Well, it's not.
Helios, a start-up from Israel, has discovered and developed a never thought before method to cut down emissions from one of the hardest industrial sectors to abate and make it more sustainable.
In the mid-1850s, a British inventor, Henry Bessemer, developed the first technique to mass produce steel and since then the metal has become increasingly ubiquitous in the world. Despite huge technical advancements in the steelmaking process in the last 20 years, the underlying chemical process has remained essentially the same. Carbon still continues to play the vital roles of a fuel, a reducing agent, and an alloying agent.
This most used industrial material in the world can be found in every aspect of our modern lives, but it has been clearly determined that its traditional production route has the greatest climate impact.
According to the World Steel Association data, the global steel demand is expected to rise to 2.5 billion tonnes per year by 2050, while on the other hand, to meet the target set by the 2015 Paris climate agreement, there is an urgent need to reduce worldwide carbon emissions to limit global warming to a maximum of 2 degrees Celsius above preindustrial levels.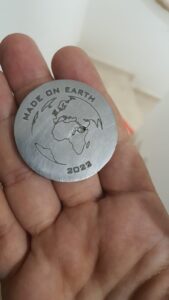 Understandably, the onus is on the steel industry to reduce its carbon intensity and Helios seems to have stumbled upon the much-needed solution. The company has discovered and developed a novel method to produce iron from iron ore, requiring only thermal energy, and emitting only oxygen.
Helios, backed by the Israeli Energy Ministry and the Israel Space Agency (ISA), is using a reduction process that recycles the proprietary reducing agent in a closed loop, emitting only oxygen, and by doing so, reducing the overall energy needed in ironmaking by up to 50%.
Interestingly, this process will work well on any planetary body that has soil on it and this is how Helios decided to use the technique to help decarbonise the steel industry.
"When we produce oxygen out of the lunar surface, the by-product we get is iron, we get silicon, etc. we can use the same process here on Earth to produce iron. And instead of carbon dioxide as a by-product, we get oxygen instead of carbon dioxide," Mr. Geifman said.
Moreover, unlike other green steel technologies, Helios does not require steelmakers to dramatically alter their existing processes. Instead, the module is directly integrated into Direct Reduction of Iron (DRI) furnaces, which reduces cost and facilitates faster adoption.
To begin with, the DRI route has 35-40% lower CO2 emissions than conventional steelmaking and on top of it, the Helios process uses half the energy of the typical process. Additionally, there is a possibility to cut down the emissions to zero with the use of electricity from renewable sources.
While the steel industry has already begun the transition phase by developing and testing various alternative technologies to make steel, achieving net zero by 2050 still seems like a daunting task. Most steelmakers are relying heavily on hydrogen-based route to be the game-changer but there is a big question mark on its commercial-scale availability and additional costs involved.
Recycling does reduce emissions, but steel products are built to last a long time. On average, there is a waiting period of 40 years before steel makes it way back to a melting unit. So, the availability of scrap to meet the growing steel demand is a key factor to consider in this case.
Practically, recycling steel scrap can definitely cut down on emissions by reducing the consumption of virgin iron ore but achieving net zero via this route seems to be quite far-fetched.
Most importantly, it's a race against time. To achieve net zero by 2050, emissions need to fall an average 4% annually for the next eight years and then maintained from 2030.
Mr. Geifman strongly believes that Helios' technology can speed up process of decarbonising the steel industry without massive investments and revamping the infrastructure.
"When approaching the steel industry with our novel process to produce iron, we wanted to demonstrate the superiority of its unit economics. By disregarding carbon credits or taxes, we can show that the process wins the competition at its core, and not only against alternative green steelmaking, but also against the blast furnace and DRI routes. Reducing the industry OPEX is key to expedite the decarbonisation of steel, hopefully, way before 2050," Mr. Geifman concluded.