Green steel is picking up steam worldwide and manufacturers across the globe are committing billions to developing technology to produce the versatile metal with lowest CO2 emissions possible. The industry that accounts for over 7% of the world's annual man-made greenhouse gas emissions, is under pressure to reduce its carbon output as the race to achieve net-zero by 2050 is heating up. It goes without saying that only through working together the world can bring industrial emissions down to zero and that is why Asia's role as the largest producer is nothing short of critical. China, India, Japan, and South Korea's combined production of crude steel accounted for nearly 68% of the world's total production in 2021 and as per the World Steel Association data, the whole continent was responsible for 74% of the global production. While most from the region kept their decarbonisation plans under wraps, in December 2020, South Korean steel giant POSCO became the first to officially declare a carbon-neutral plan by fostering the hydrogen industry.
On 17th January 2019, the Hydrogen Economy Roadmap was announced to push forward the agenda of creating a comprehensive hydrogen ecosystem in South Korea by 2040. In 2020, "Hydrogen Economy Promotion and Hydrogen Safety Management Act", the world's first-ever hydrogen law, was passed by the then President Moon Jae-in's government to make hydrogen one of its central pillars that would help the country decarbonise.
As the country is preparing practical strategies and measures to achieve the national vision of 2050 carbon neutrality, the use of hydrogen in hard-to-decarbonise sectors such as steelmaking and shipbuilding seems to be a challenging but logical step.
Hydrogen-based steelmaking is widely touted as a potential saviour for the industry and POSCO's HyREX, short for, Hydrogen Reduction, is definitely the one to watch out for.
Why hydrogen?
During the traditional steelmaking process, iron ore is turned into iron in a blast furnace, and then, that iron is turned into steel through the basic oxygen converter process. On an average, about 1.85 tons of CO2 is released per ton of crude steel produced.
A blast furnace plays the role of a reduction furnace and traditionally, coal is used as a reducing agent. When hot air burns the coal, carbon monoxide gas generated in this process causes a reduction reaction that takes oxygen (O2) from the ore (Fe2O3).
In order to decarbonise steelmaking, carbon that turns into carbon monoxide, needs to be replaced with a gas that would lead to lower or no carbon emissions.
The use of green hydrogen would make it possible to completely decarbonise the process, since it would only produce water vapour as chemical by-product.
Through the iron ore reduction process: (Fe2O3 + 3H2 → 2Fe + 3H2O), iron (Fe) is produced together with water (H2O), and this iron is called Direct Reduced Iron (DRI). DRI is finally reduced and melted at melting furnaces such as electric furnace using electricity produced using eco-friendly energy.
As hydrogen is so far only being produced in limited quantities and to meet the demands of industrial-scale production of steel, POSCO has plans to build a green hydrogen production facility with a capacity of five million tons per year by 2050 and achieving 30 trillion KRW in its sales.
What is HyREX?
HyREX is a cutting-edge technology based on the fluidized bed reactors, that produces iron from iron oxide using hydrogen as a reduction agent instead of fossil fuels. The use of HyREX technology can significantly reduce carbon emissions in the steelmaking process.
Unlike a blast furnace such as reduction and melting occur in a single furnace, in HyREX, the reduction and melting reactions occur in the fluidized bed reduction furnace and electric furnace, respectively.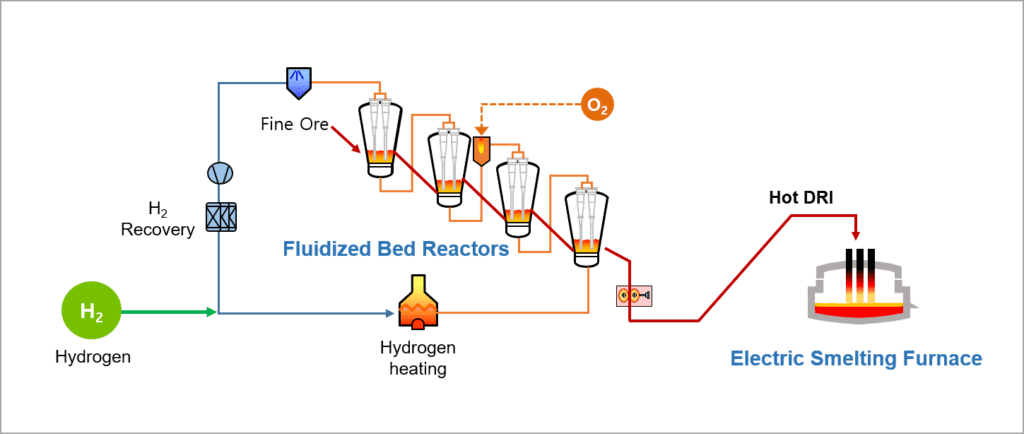 First, iron ore comes in contact with hydrogen heated to a high temperature to make DRI.  After that, DRI is put into an electric furnace and melted to produce molten iron. The reason why the core of the hydrogen reduction steelmaking is a reduction furnace is that it produces DRI using 100% hydrogen.
Second, HyREX uses sinter feed grade iron ore fines rather than pellet. While the demand for green steel increases, the amount of iron ore suitable for pellet production is very limited.  Also, HyREX can produce DRI more economically because it uses mined ore directly without pelletizing process. CO2 emission is also decreased by omitting pelletizing process. Generally, 50 – 150 kg of CO2 is emitted when 1 ton of pellets is produced.
Third, unlike CO gas releases heat during iron ore reduction, H2 gas consumes heat during reducing process. It means hydrogen reduction ironmaking process requires much higher amount of heat compared to the conventional process. The reduction furnace of HyREX consist of several reactors, which are easier to control temperature of the bed by supplying heat between reactors.
HyREX produces molten metal using iron ore fines and hydrogen based on POSCO's FINEX (Fine Iron ore Reduction) process. The FINEX process was jointly developed by POSCO in Korea and Primetals Technologies in Austria. POSCO has successfully produced a cumulative 34 million tons of molten metal in a FINEX plant since the start of FINEX technical development in 1992 and the commercialization of the technology in 2007.
FINEX is composed of two-part, fluidized reduction furnace and melter-gasifier. The iron ore fine is put into the fluidized reduction furnace to produce DRI. The DRI then goes into a melter-gasifier, where it changes into molten iron. The molten iron goes through a converter and becomes molten steel, with which various products are created.
Melter-gasifier use raw coal briquette rather than cokes as a heat and reduction gas source, so volatile material (usually hydro-carbon polymers) is released from the raw coal and decomposed into carbon monoxide and hydrogen inside of the furnace. The gas produced in the melter-gasifier is routed into the fluidized reduction furnace as a reducing agent. The hydrogen composition of reducing agent is about 25%.
On the other hand, as previously mentioned, HyREX replaces a melter-gasifier with an electric furnace and the reducing agent utilised at reduction furnace is purely hydrogen.
Combining these two processes leads to lower production costs and the reduction of environmental emissions in comparison with the conventional blast furnace route.
The future of HyREX?
POSCO has plans to build a test facility with annual production of a million tons in Pohang Works by 2028 in cooperation with the government and Korean steel companies to confirm the possibility of commercialisation of HyREX technology.
Additionally, process technology for a new electric furnace dedicated to hydrogen reduction steelmaking is being developed.
POSCO plans to enter the demonstration stage from 2025 without a pilot stage and verify HyREX technology in 2030 based on its technologies and experience from FINEX process development.
Also, POSCO will achieve "net-zero carbon 2050" by converting existing blast furnaces in the Pohang and Gwangyang steelworks to hydrogen reduction steelmaking in a phased manner by 2050.
POSCO held Hydrogen Iron & Steel Making 2021 (HyIS Forum 2021), the first international forum on hydrogen reduction steelmaking, in October last year. In this event, POSCO introduced HyREX technology to global steel companies for the first time. This year, POSCO will co-host HyIS Forum 2022 with SSAB developing HYBRIT and have in-depth discussion on – 
1) Transition to near zero emission steelmaking.
2) Value chain for near zero emission steel, 3) Science and technology policy for near zero emission steel.