Did you know that you can make steel with hydrogen? Though it might sound a bit unfamiliar, "hydrogen-based steelmaking technology" is an innovative technology that produces iron with hydrogen instead of coal. By avoiding the use of coal, carbon dioxide generation is close to zero. With this article, POSCO takes you on a journey to the future hydrogen steelworks of 2050, where carbon-neutral steel is produced.
How hydrogen-based steelmaking works
How does hydrogen-based steelmaking work? There is a reason why it is called hydrogen-based steelmaking and not just hydrogen steelmaking. The trick here is that hydrogen acts as a reducing agent that separates oxygen from iron ore (see Figure 1). Through the process, iron is produced together with water; this iron is called Direct Reduced Iron (DRI).
So what reducing agents are being used as of now? It is carbon monoxide — a gas that is generated from coal. When iron ore and coal are put into the blast furnace and melted at 1500°C or higher, the generated carbon monoxide triggers a reduction reaction that separates oxygen from iron ore and generate carbon dioxide.
Replacing the reducing agent coal with hydrogen might seem like a simple change, but it marks the beginning of a huge transformation. Needless to say, the steelworks will no longer generate any carbon dioxide, a greenhouse gas, and great changes will be made to the conventional steel production process as well. So, what will the steelworks look like in 2050 once the hydrogen-based steelmaking technology is applied?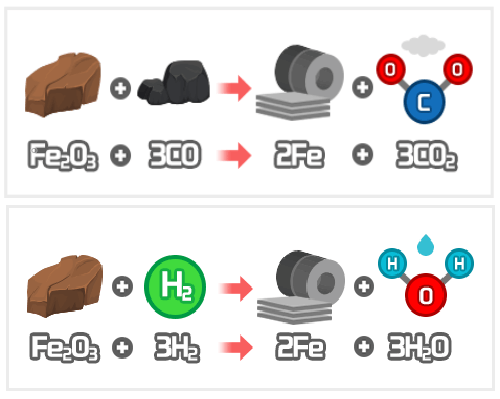 Replacing the conventional blast furnace
The first change is that the blast furnaces will disappear at the steelworks. Since the process of melting coal and iron ore in a single blast furnace is no longer needed, other attached facilities, such as the sintering plant and coke plant, will be eliminated along with the blast furnace. But imagine a steelwork without a blast furnace. Where would the reduction reaction between hydrogen and iron ore take place then? This is where the "fluidized reduction furnace" steps in.
The fluidized reduction furnace, a facility that reduces iron ore to produce DRI, already exists in POSCO and can be found in its own FINEX (Fine Iron ore Reduction) process (see Fig. 2). In FINEX, iron ore fine and coal are not put into the blast furnace, but instead, they go through the fluidized reduction furnace and the melter gasifier to be processed into molten iron. This technology is the core technology in realizing hydrogen-based steelmaking. However, there is a difference between the two: FINEX uses 25% hydrogen and 75% carbon monoxide generated during the process as reducing agents, whereas hydrogen-based steelmaking (HyREX: Hydrogen Reduction) uses 100% hydrogen.
The blast furnace isn't the only facility to disappear, however. Previously, molten iron produced in the blast furnace was converted into refined molten iron through a converter. But in the case of hydrogen-based steelmaking, the DRI produced in the fluidized reduction furnace goes through an "electric furnace," not a "converter," hence the converter is expected to disappear as well. So it can be said that in hydrogen-based steelmaking, the fluidized reduction furnace and the electric furnace take the place of the conventional blast furnace and converter.
Renewable energy
There is another thing to notice here — the use of power. Another significant difference between hydrogen-based steelmaking and the conventional blast furnace operation and FINEX is that it requires large amounts of external power. The blast furnace not only produces molten iron but also supplies the heat source required for post-processing and the by-product gas for power generation. The reason why by-product gas is created in the blast furnace operation is that carbon cannot be used in 100% reduction. In fact, POSCO self-procures more than 60% of the power required for the steelworks by generating by-product gas power. However, in hydrogen-based steelmaking, hydrogen is used in 100% reduction so it does not create any by-product gas, meaning that all power for the steelworks must be supplied from outside. If so, once the blast furnace disappears, where do we get the power required at the hydrogen-based steelworks in 2050?
The second change at the steelworks is therefore the increased dependency on renewable energy. "Green hydrogen" is a prerequisite for the basic concept of hydrogen-based steelmaking. This means that neither the hydrogen inserted into the fluidized reduction furnace nor the electricity production process that drives the facility should cause any carbon emission. Given that renewable energy, such as solar and wind power, is essential to produce green hydrogen, it is clear that those countries that cannot produce green hydrogen on their own will have to rely on imports in the future.
Solar and wind power are heavily influenced by geopolitical factors that determine sunlight and wind speed. As of 2019, the cost to generate solar energy in Korea is 163 KRW per kWh, which is 10 times more expensive than that of the Middle East. That is why Australia and the Middle East are expected to be areas to mass produce green hydrogen. According to data released by global research company Bloomberg NEF in March 2020, the global demand and supply outlook for green hydrogen in 2050 showed clear division by region. In particular, the dependence of Asian regions, including Korea, on Australia and the Middle East, which are relatively close geographically, is likely to increase. Thus, the importance of participating in green hydrogen production projects and finding partners with these regions will gradually grow more in the future.
Key to the chemical formulae:
Fe2O3 = iron ore
H2 = hydrogen
Fe = iron
H2O = water
CO = carbon monoxide
CO2 = carbon dioxide
The close connection between hydrogen-based steelmaking and renewable energy was also found in the HYBRIT project of SSAB, a Swedish steelmaker that operated a pilot plant for hydrogen-based steelmaking in August 2020. The HYBRIT project was participated by LKAB, the largest iron ore producer in Europe, and Vatenfall, a Swedish multinational electric power company.