Recently, Boston Metal was honoured to be one of seven companies featured in the U.S. Center's First Movers Coalition display at the 27th United Nations Climate Change Conference (COP27) held November 6-18th in Sharm El-Sheikh, Egypt. The First Movers Coalition is a global initiative harnessing the purchasing power of companies to decarbonise "hard-to-abate" industrial sectors that currently account for 30% of global emissions. Steel is among these sectors, along with aluminium, aviation, chemicals, concrete, shipping, and trucking.
Mr Adam Rauwerdink, Senior Vice President, Business Development at Boston Metal sat down with Green Steel World to talk about the game-changing technology that is cost-effective, scalable, and creates value throughout the steel value chain.
Here are the excerpts from the interview.
The vision and mission of Boston Metal
AR: We are technology providers to the steel industry and our mission is to revolutionise how steel will be made in the future. For us, it is not about carbon emissions reduction, carbon capture sequestration or circular carbon. We're working to fully eliminate carbon from the steelmaking process. To that end, we have developed a novel way of turning iron ore into high-purity liquid metal that can go downstream into any form of steel, powered entirely by green electricity.
Boston Metal's vision is to become the global leader in a new era of metallurgy, where steel and other metals can be produced more efficiently, at lower cost and without carbon emissions.
Boston Metal's definition of green steel
AR: At the moment, green steel is certainly somewhat of a loose term but entities like ResponsibleSteel are starting to put solid metrics around it.
"Due to the shortage of scrap, 70 per cent of steel is still produced from virgin iron ore and in blast furnaces powered by coal."
However, from the perspective of the Boston Metal technology, our process, powered with clean electricity, cuts down Scope 1 and 2 emissions to zero, and the end product is what we would call green steel.
Delivering a future where primary steel production is free of carbon emissions
AR: Boston Metal's technology aims to replace blast furnace technology in primary steelmaking.
Recyclability is one of the greatest benefits of steel, but it has its own limitations. Scrap steel is limited as the metal is widely used in long-standing structures and cannot be easily recovered.
The electric arc furnace (EAF) method is responsible for the remainder of steel production, but it largely requires scrap steel as an input. Alternatively, the EAF can use directly reduced iron as an input, but that process also comes with a host of complications.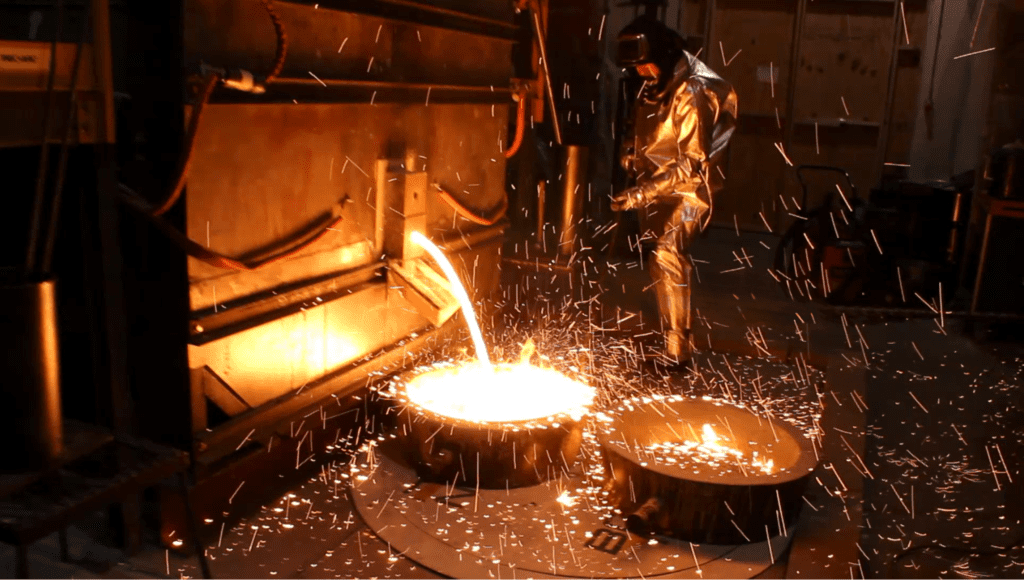 Basically, both existing steelmaking methods are very dirty and harmful to the environment.
In contrast, Boston Metal's technology transforms all grades of iron ore into clean, high-purity liquid metal that can be sent directly to ladle metallurgy – no reheating required.
Our technology is built for scale and can directly replace the capacities of production that you get from a blast furnace today. About the size of a school bus, Boston Metal's modular MOE cells can be scaled up to meet production capacity targets from thousands to millions of tons of output for a customised steel manufacturing solution.
Molten Oxide Electrolysis (MOE)
AR: We've developed an electrolysis process that eliminates the need for coal in steel production. In an electrochemical process, electrolysis uses direct electric current to separate chemical compounds into their constituent parts.
Our Molten Oxide Electrolysis (MOE) technology provides the most direct and scalable solution to make green steel. In the cell, an inert anode is immersed in an electrolyte containing iron ore and is then electrified. When the cell heats to 1600C, the electrons split the bonds in the iron ore. The result is a clean, high-purity liquid metal. Unlike alternative green steel technologies being developed, our MOE platform works with all iron ore grades.
MOE converts even low- and mid-grade iron ore fines directly into high-purity molten iron. This enables the broadest possible supply of feedstock and protects against the price volatility of premium ores. Our simplified process eliminates the need for coke production, iron ore processing, blast furnace reduction, and basic oxygen furnace refinement.
Infrastructural changes and green electricity
AR: Our capital cost is comparable to the cost of plants in an integrated mill today. The one big infrastructural change is that you're no longer using coal as an energy source. But you need access to stable, clean power.
However, in the current scenario, access to clean power is certainly a geographically dependent factor. Historically, steel mills were built near coal mines. In the future, they will be built where you have clean power. We will certainly consider this factor when we start to roll out the technology and look at certain regions where it could be readily implemented.
The road ahead
AR: We're on track to reach commercialisation by 2026 to meet the growing global demand for green steel. We're backed by some of the world's leading cleantech venture capital funds, mining companies, and steel users committed to decarbonising heavy industries for a net zero future.
As you know, Bill Gates-founded Breakthrough Energy Ventures was already among our initial investors, but companies like Vale, BHP, BMW and many more also acquired minority stakes in the company to promote the development of steel decarbonisation technology.
The message is loud and clear as the demand side is flipping the steel industry on its head. We can already see the change in the automotive and construction industries. The voices demanding green steel public procurement are growing. The whole steel supply chain is transforming quickly so I can certainly say that it is an exciting, yet challenging time for the industry.