In an exclusive chat with the Green Steel World, Dr Marie Jaroni, Head of Decarbonization, thyssenkrupp Steel, talks about the company's roadmap, top priorities, timelines, goals, commitments and much more on the path to carbon neutrality 2045.
GSW: What does green steel mean for thyssenkrupp Steel?
MJ: We operate the largest steel production location in Europe. Our current method of producing (in coal-based blast furnaces) is a CO2-intensive process. We alone emit around 20 million metric tons of CO2 annually – that's equivalent to about 2.5 per cent of Germany's total CO2 emissions. Consequently, there's no alternative to a transformation away from coal if we want to achieve the Paris climate targets. At thyssenkrupp Steel, we intend to be carbon-neutral by 2045 at the latest. However, with quick and specific climate change mitigation measures, we can already take ~6 million tons of CO2 out of the system by 2030.
This transformation process is unique in the history of our country. There is no blueprint for this, either in scale or complexity. But our work on "greener steel" or an expanded portfolio with a reduced carbon footprint didn't just start today. With bluemint®, certified steel products with up to 70 per cent less CO2 have been available since 2021, and their quality is no different from our existing grades. We are seeing increasing demand for these low-CO2 products, particularly from end-user industries and processing sectors.
Green steel is the material of the future, the basis for a carbon-neutral ecosystem. As Germany's largest steelmaker, we intend to play a decisive role in shaping the market for green steel.
GSW: Could you explain thyssenkrupp Steel's path to carbon neutrality by 2045 in more detail? How is thyssenkrupp changing the traditional methods of steel production? Can you tell us something about the tkH2Steel® transformation project?
MJ: tkH2Steel® is our transformation concept: it describes our innovative and technologically ground-breaking path towards decarbonized steel production. In short: moving away from classic, coal-based blast furnace technology toward hydrogen-based direct reduction. In the future, the direct reduction plants which will replace our blast furnaces at the Duisburg site will operate with hydrogen instead of coal and will be combined with innovative melting units. This allows us to manufacture a product almost identical to today's hot metal. Direct reduction plants and melting units can be integrated into the existing metallurgical network so that all further production steps from the steel mill onward can remain in place. By as soon as 2026, we intend to take into operation the first direct reduction plant with a capacity of 2.5 million metric tons. This alone will save 3.5 million metric tons of CO2, just under 20 per cent of our overall emissions.
In addition to directly avoiding CO2 emissions, we have an alternative technological route with Carbon2Chem: here, we convert generated steel mill gases, including the CO2 they contain, into valuable chemical precursors.
With tkH2Steel, we show how the ecological transformation to decarbonized steel production can succeed.
GSW: Do you think hydrogen will play a decisive role in the transformation of the steel industry? And how will you ensure an adequate supply in the future?
MJ: For our green transformation, we will need both large amounts of electricity from renewable sources and large amounts of hydrogen. We will have to procure these not only nationally and regionally, but also internationally in the long term. We are pursuing a multidimensional procurement strategy here. Because one thing is clear: Germany will not be able to meet its demand for green hydrogen and green electricity from its own production. Smart collaborations will be needed to make production processes such as steelmaking carbon neutral. We also need a well-developed transport infrastructure – a sound and stable hydrogen infrastructure is a basic prerequisite for carbon-neutral steel production. From today's perspective, transport via pipelines will be the most efficient solution. We are planning to connect to the pipeline network as early as 2027, and we will be connected to both the German launch network and the European network. We are already connected to Air Liquide's private network with a link that was completed in December 2022.
GSW: thyssenkrupp Steel is focusing on hydrogen and Carbon Capture and Utilization (CCU) at the same time. Do you think multiple approaches and pathways are needed to fully decarbonize the industry?
MJ: The most sensible approach would be to avoid generating CO2 directly in steel production. This pathway is known as Carbon Direct Avoidance (CDA). The aim here is to replace coal and coke as reducing agents. This is already possible in the conventional blast furnace process to a limited extent. However, it is not possible to completely dispense with coal or coke in the blast furnace, because the processes in the unit inevitably rely on the lumpy structure of the coke and thus the support it provides.
In addition to the direct avoidance of CO2, it is also possible, as a second basic technology, to capture the CO2 generated during steelmaking and convert it into basic chemical products. This pathway, called Carbon Capture and Utilization (CCU), can be used wherever metallurgical gases are produced as part of conventional blast furnace-based steelmaking. This is what our "Carbon2Chem" project stands for.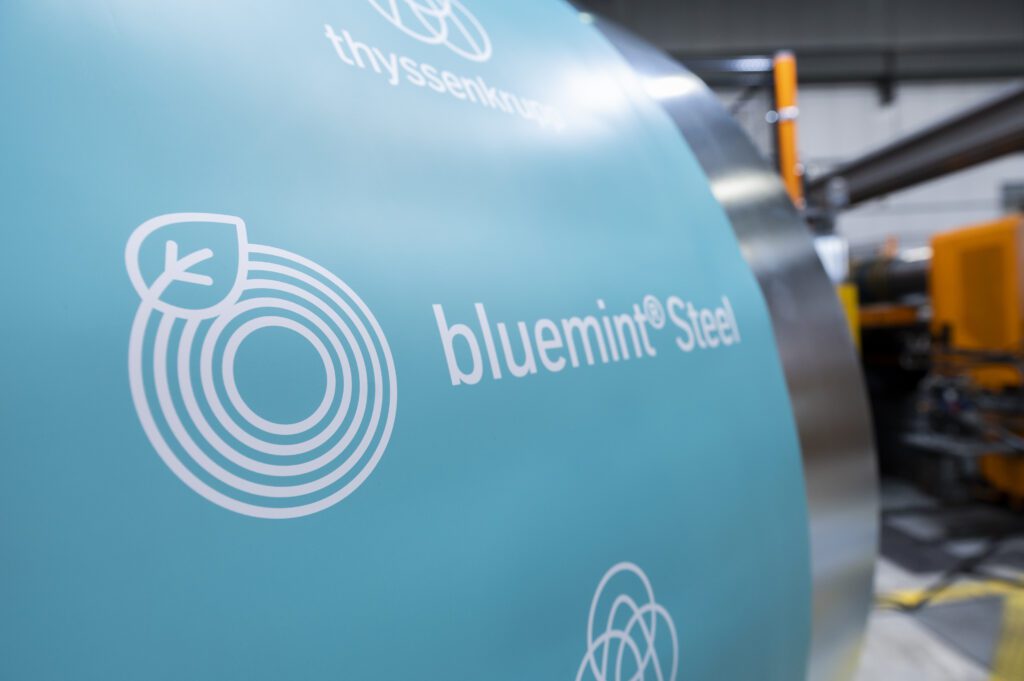 One thing is clear: we need the technological shift away from the blast furnace – toward direct reduction. This technological change represents a major challenge because the processes differ in both the reduction process and the matter state of the resulting product: whereas the blast furnace produces liquid hot metal, which is further processed in steel mills, direct reduction plants operate at significantly lower temperatures and produce solid iron (called sponge iron). One possibility for further processing of sponge iron is electric "melting units", in which the sponge iron is melted into steel using electricity. In a combination of direct reduction plants and these innovative "melting units", a kind of "electric furnace iron" can be produced using hydrogen and electricity from renewable sources. From the steel mill stage, all established process steps are thus retained right through to the end product.
GSW: thyssenkrupp Steel is planning massive investment in decarbonization. The trend shows that the steel sector will have to make huge investments to achieve the transition. Do you think financing will play a crucial role in decarbonization?
MJ: We have an unprecedented transformation project ahead of us. Achieving green steel production is a task for society as a whole – no steelmaker can go down this road alone. If we start with the goal and work backwards, it becomes clear: we will need support for the difficult initial years of the transformation if we are to maintain a European industry that is not only strong and carbon-neutral but also independent and resilient – with green steel as the starting point for many value chains.
thyssenkrupp Steel is prepared to invest massively in this green transformation. We have already achieved important milestones here. By releasing equity funds, thyssenkrupp AG has laid the foundations for investments of over two billion euros in our first direct reduction plant. This decision was complemented by the willingness of the state government of North Rhine-Westphalia to support our transformation with a mid-three-digit million-euro sum. The share of funding from the government will be 70 per cent of the funding volume. This commitment is an important signal for us that the steel industry can become the engine of the green transformation in Germany and Europe and gives us the necessary wind in our sails to take the next steps.